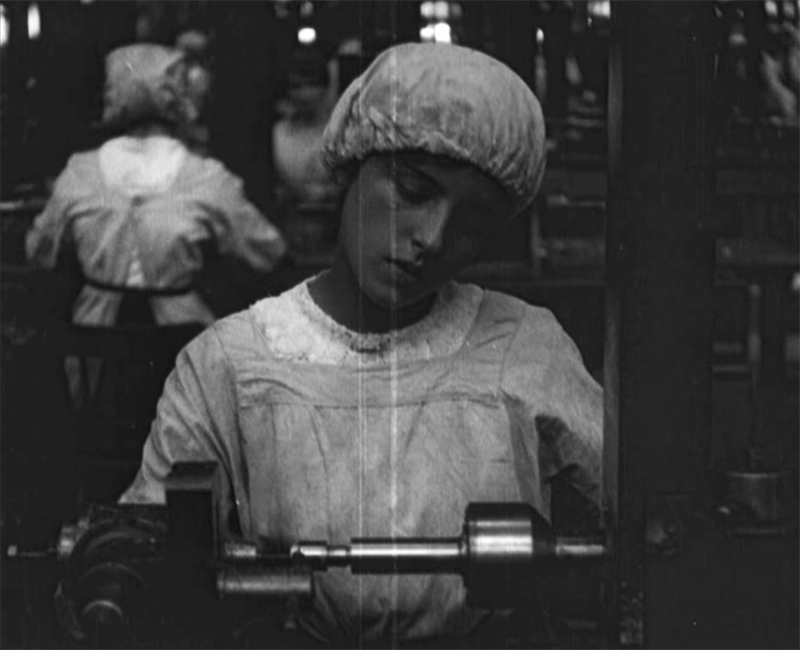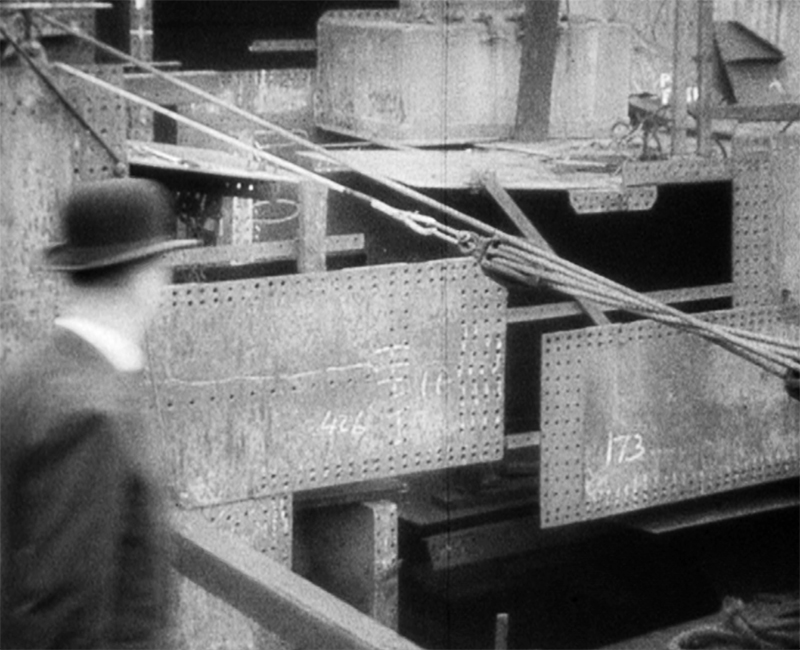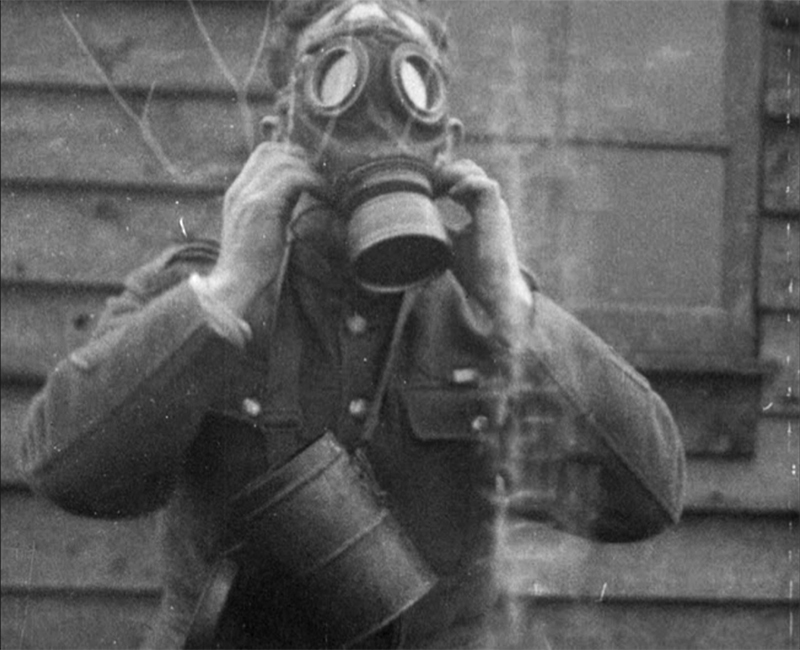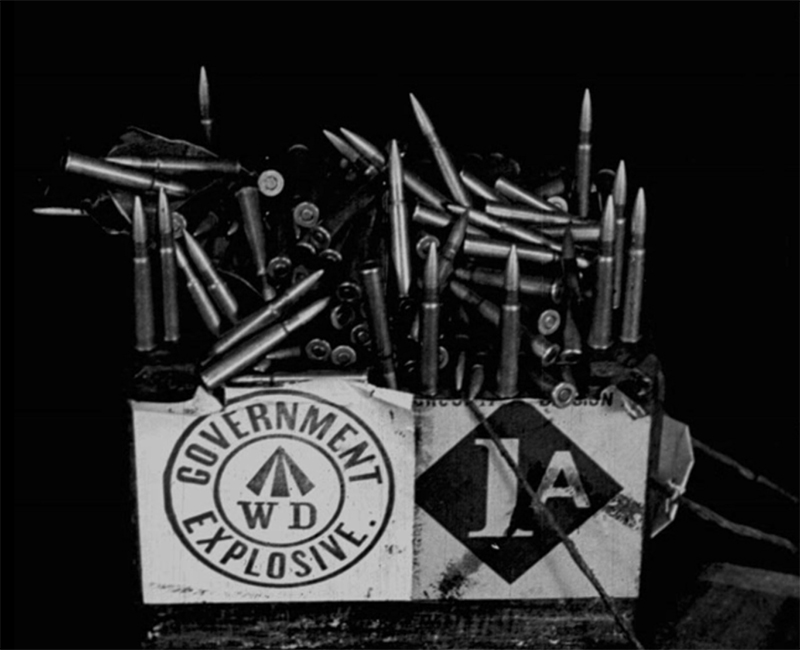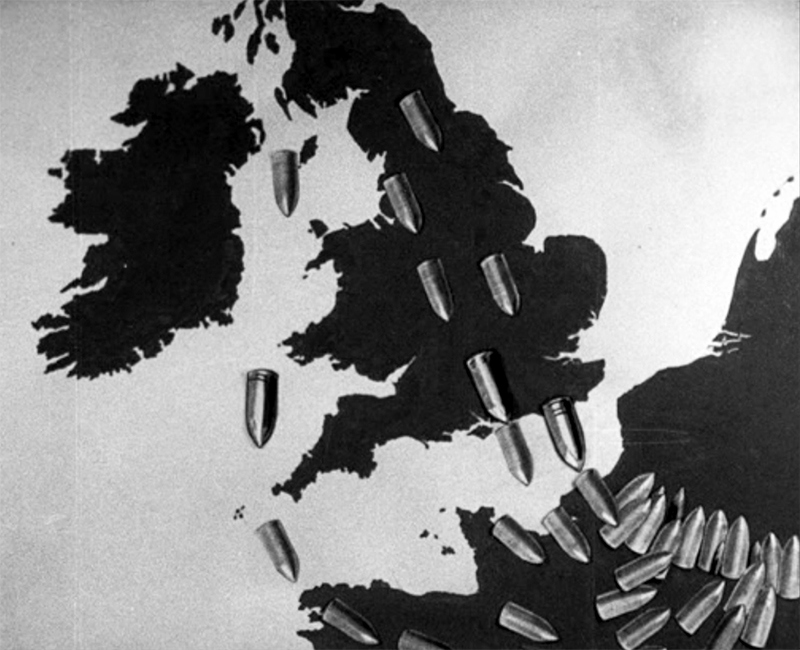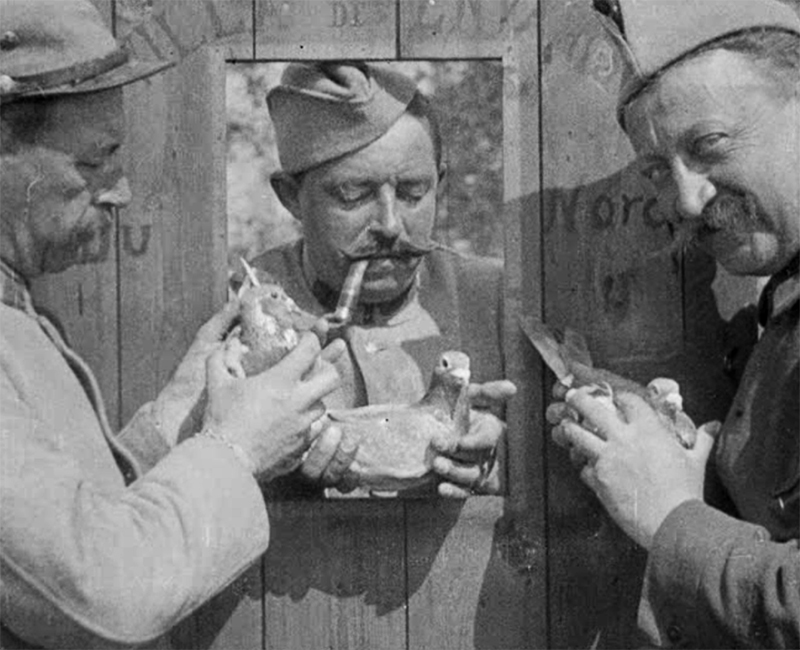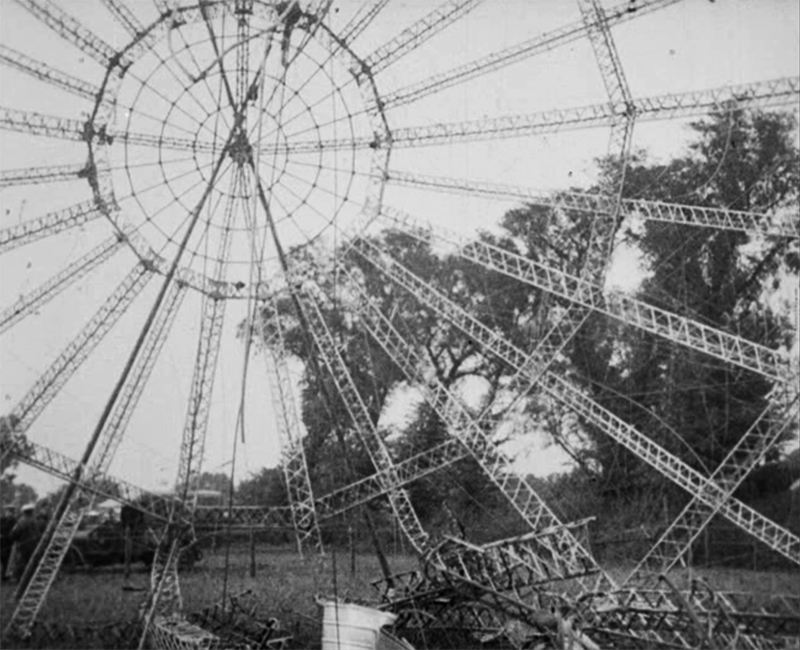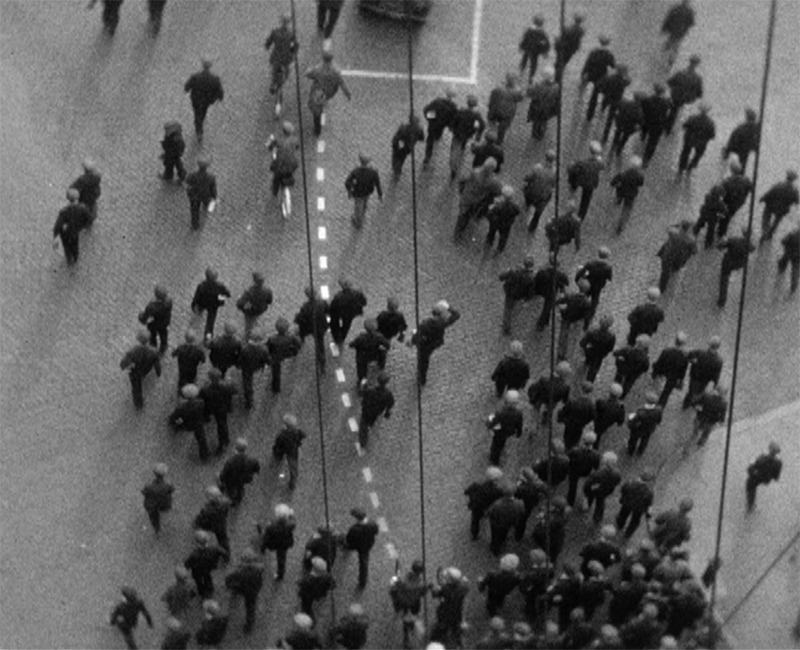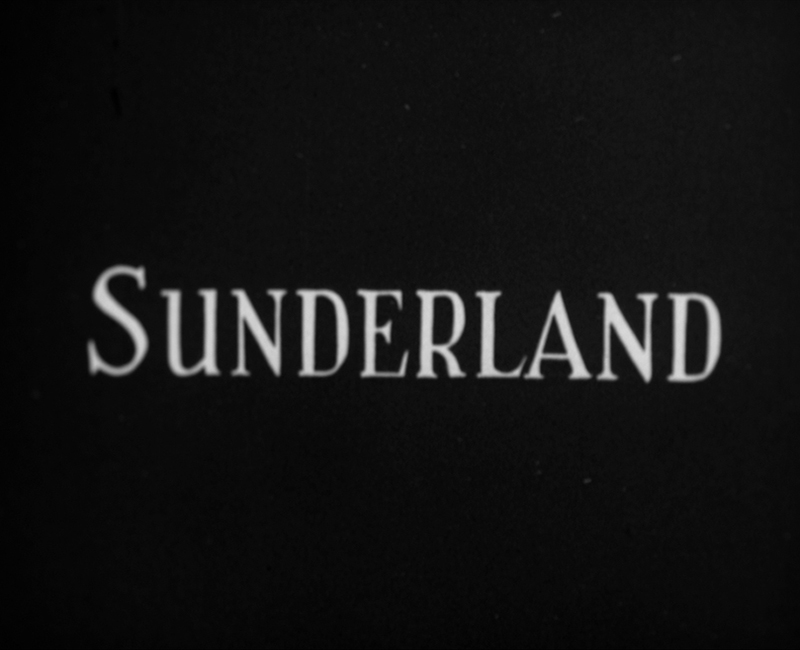 Asunder archive film stills courtesy of
British Film Institute, Imperial War Museum and North East Film Archive.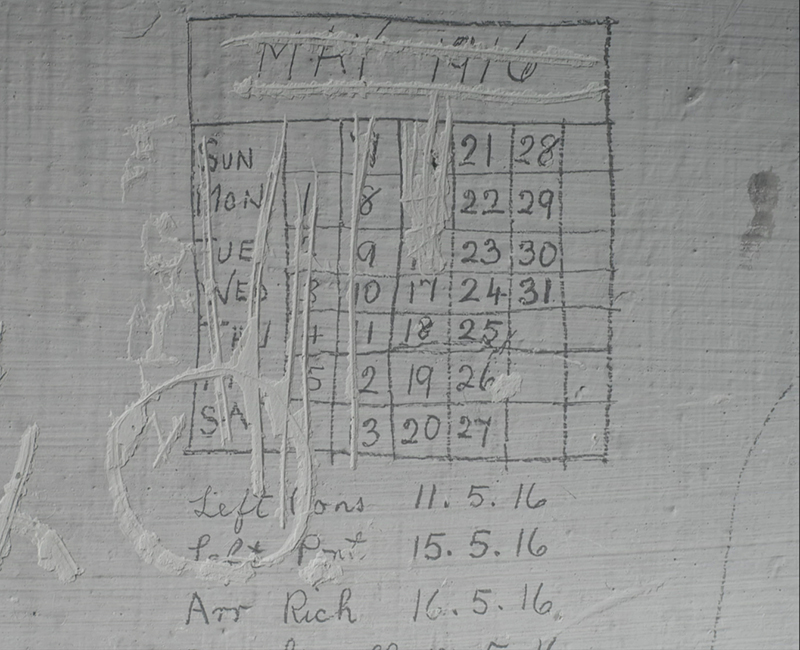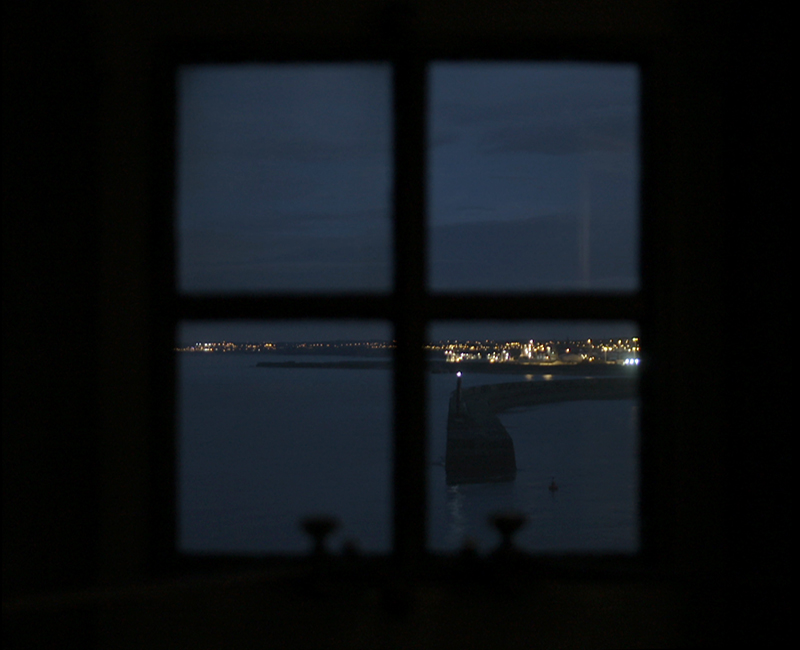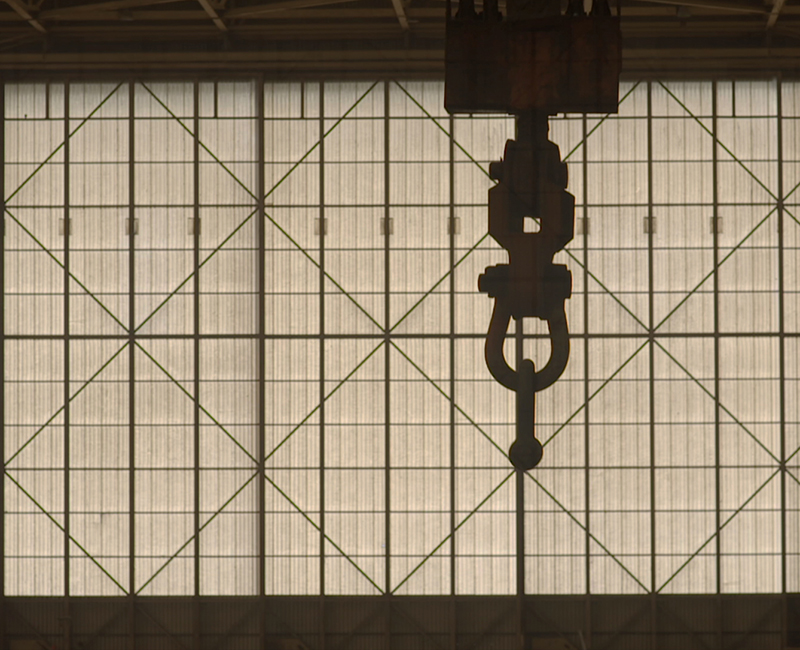 Asunder contemporary footage of Sunderland and the North East, and Richmond Castle in North Yorkshire.
"In making Asunder I wanted to uncover hidden social histories to thereby give prominence to stories that may not have been given space in the history books. During research there was a focus on revealing stories of WW1 that you don't hear about – moments of magic during the horror, attempts at finding normality in abnormal circumstances – to find a new way of understanding the war. In researching rarely seen films of the war years, I was keen to find footage of WW1 that you might not expect – shots that clearly show the friendships forged between young soldiers; animations of zeppelins, a man-in-the-moon, and ships at sea; a soldier attempting to kiss a girl under the Christmas mistletoe; graphics and inter-titles; and footage from a different point-of-view, be it taken from the front of a tank, or from an airship. Archive material is mixed with contemporary footage of locations in Tyne and Wear as they exist now in order to bring the period of 1914–18 to life in sometimes surprising ways. Further research was undertaken in local and national archives with a focus on letters, diaries and drawings from the period, and later memoirs and oral history recordings from those who survived the war. We were lucky enough to get Kate Adie and Alun Armstrong on-board, both from the North-East, for the narration of the film, the text of which has been woven from existing oral testimonies, in addition to material from 1914–18 copies of the Sunderland Daily Echo and Shipping Gazette.

The individual stories in Asunder consist of: Norman Gaudie, a conscientious objector, devout Quaker and Sunderland AFC centre-forward; Lizzie Holmes, the first woman in Horden to wear trousers; Margaret Holmes, a tram conductress who survived a zeppelin raid on Sunderland; Bella Reay, a young munitions worker and whizz footballer scoring 133 goals in one season, and; Lisbeth Simm, a working-class staunch campaigner for women's rights. Their stories are spliced with the narratives of James Hepple (also known as Robert Hope), a 19 year old soldier shot at dawn for desertion; Arthur Linfoot, a soldier in the non-combatant Royal Army Medical Corps; George Thompson, a Sergeant transport driver who loved his horses, and; Garnet Wolseley Fyfe, a Lance Corporal and piper killed on the first day of the Somme whilst going 'over the top' playing 'It's a Long Way to Tipperary'."

– Esther Johnson, Director of Asunder
CORRESPONDENCE FROM RELATIVES OF INDIVIDUALS FEATURED IN ASUNDER
LISBETH SIMM storyline
"Lisbeth was my great grandmother. I grew up in Liverpool New York which is where Lisbeth first came when she left England. She lived with my father when he was a young boy for a short time. She later moved to California. As a child I was told how Lisbeth had helped set up women's and children's rights, and also the Labour Party and the support of coal miners in the North of England. I was also told that after the war she travelled the world trying to help women find jobs once the men returned. I once had a box [recently stolen] containing opals from her visit to Australia and gold covered beetles from India.
I have a memory of an anecdotal story of when my great grandfather was up for running the second time for Parliament that the Labour Party approached Lisbeth to run instead. That sounds like a very family story that may or may not have been true at all. However, it does make me smile. Unfortunately my great grandfather lost by a landslide in the second round.
Even though I never met her, I think of Lisbeth as a role model for me. Her passion and commitment to her cause are inspirational. I speak about her frequently to friends and coworkers and believe a lot of my personality has been inherited from her."
– Kendra Simm, great-granddaughter of Lisbeth Simm
ROBERT HOPE storyline
"It's hard to talk about a family member who because of tragic circumstances I never met. Sad that nobody in the family talked about him, not through shame I guess but more that his move to Ireland and his change of name seemed to be responsible for his break of contact with his Sunderland family. I feel that after his previous good conduct his 'desertion' was due to a nervous breakdown, something not really recognised at the time. He is certainly not a coward in my opinion as I think any soldier involved in the dreadful conditions of World War I was a very brave man."
– Bernard Hope, second cousin of Robert Hope [AKA James Hepple]
"I owe my interest in the First World War to my Great Uncle, Captain Alan Lendrum whose incredible story continues to resonate. I grew up in the Northern Ireland 'troubles'. His grave was in the local church and there was a vague story that he'd come to a sticky end. There were whispers that he was the one that got 'buried in the sand'. It took a few years for that tall story to unravel, but its taken me on some incredible adventures, meeting some wonderful people, forming life-long friendships. His medals were on display in the local museum but his mysterious death in an IRA ambush in County Clare seemed to overshadow an extraordinary life. The youthful sailor boy who circumnavigated the globe. The adventurous colonial who planted rubber in 'Malaya'. The eager recruit who joined the war effort in West Africa. A decorated hero who won an MC for organising the wire in the attack at Tunnel Trench in 1917. A gaunt, bowed figure by its end, yet still he came back for more. Off to Russia in 1919 to fight Bolshevism, to revolutionary Ireland in 1920 to take up a dangerous position of Resident Magistrate. An old scrapbook in the family home put together by his mother provides clues to his life and amongst it a few pieces of paper which lead us to the story of his involvement in the execution of a fellow soldier in the Inniskilling Fusiliers. But he wasn't actually involved. He refused to follow that order and was subsequently courtmartialed. Letters and accounts by his men indicate he was a good man, kind and generous, brave to a fault. But now I liked the sound of him even more. More adventures lead me to Belgium and the grave of Robert Hope in Ferme Olivier. The story of the teenage 'Tommy' from Sunderland and his young Derry bride is worthy of a film in itself. I was so proud a few years later to discover that Esther Johnson had woven the narrative of Robert into the Asunder film and mentioned my Great Uncle. Seeing it on screen for the first time in London and knowing the story would be preserved forever was extraordinarily moving. A few months before that, another unforgettable moment beneath the blazing Belgian sun in Ferme Olivier on 5th July 2017. Standing with Esther and her Dad, we joined VIFF (The Friends of Flanders Field Museum) in a ceremony by Robert's grave, exactly one hundred years after his death."
– Geoff Simmons, Nephew of Captain Alan Lendrum
GARNET WOLSELEY FYFE storyline
"My grandfather Garnet Wolseley Fyfe was born 16th August 1879 in Edinburgh. He was the son of James and Agnes Fyfe and was the sixth of seven children. The family moved to Backworth in Northumberland about 1900. All of the men of the family, including Garnet, were coal miners. In June 1906 he married Rachel Burrows and in May 1910 my father, Ronald was born. Garnet joined the 23rd Tyneside Scottish Battalion, Northumberland Fusiliers. He was a Lance Corporal Piper, his service number 20/237, and along with his regiment was sent to the Somme. On July 1st 1916 he was killed as he piped his fellow soldiers into battle. He is buried in Ovillers Military Cemetery in Northern France. Garnet's dirk was recovered from his body and is now in private ownership."
– Diana James, granddaughter of Garnet Wolseley Fyfe